CSR
NIKKOL GROUP's CSR Activities and More
NIKKOL 25 for 2030
The origin of the products and services offered by the NIKKOL GROUP can be traced back to the "true responsibility" that our founder, Masami Sekine, set out to achieve. The ideas that have been passed down over the past 70 years have been strengthened by the merger in 2022.
Under the slogan "NIKKOL 25 for 2030," we will continue to strive for the realization of a sustainable society while considering the interests of our stakeholders.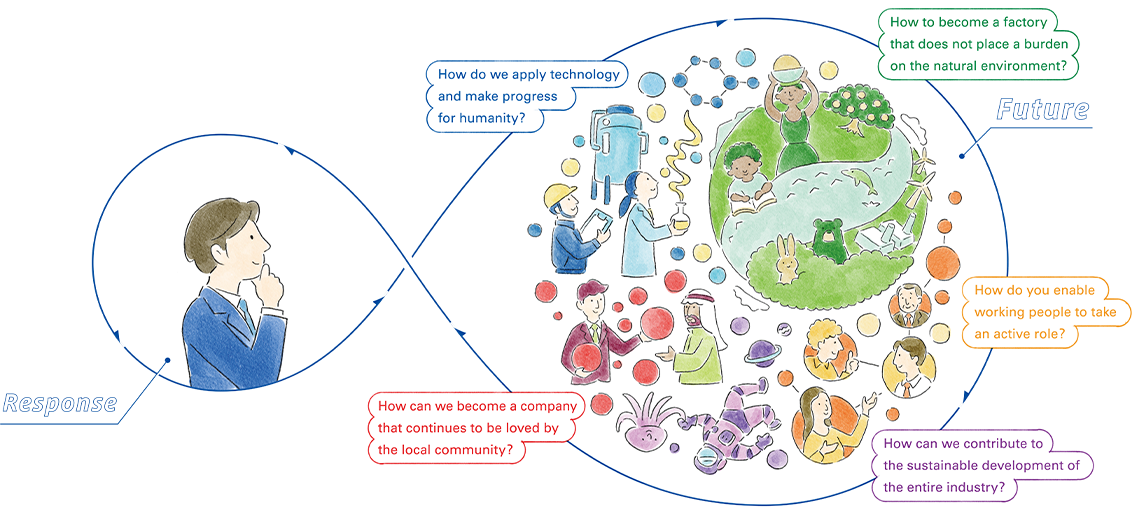 The NIKKOL GROUP's CSR
The NIKKOL GROUP companies have implemented more than 150 CSR activities, both large and small. Underlying all of these activities is a commitment to fulfill our responsibilities as a member of society. The 25 Dreams set forth in NIKKOL 25 for 2030 are the driving force behind these activities, which culminate in our company policy, "Fostering of Creativity."
Commitment
Corporate Governance
Internal Auditing
Information Disclosure
Accountability
Risk Management
Distribution of Corporate Value
The NIKKOL GROUP's commitment to contribute to people around the world as a socially responsible entity
Message from CEO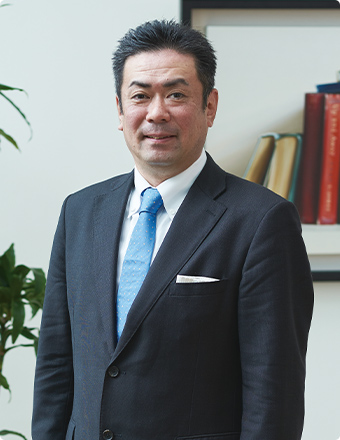 Our environment is at a major turning point. Consumer needs are diversifying with the development of technology and changing lifestyles.
It is precisely because we live in an era in which there are no "right answers", that the social responsibilities of suppliers who support our daily lives are so important.
The NIKKOL GROUP is no exception. We have been involved in our own "CSR" and "sustainability" efforts even before the terms became as relevant as they are today.
Our activities cover a wide range of areas, but their ultimate goal is "the people's joy and happiness." Our more than 4,000 products are proof of our sincere commitment to society.
The NIKKOL GROUP will continue to provide new value based on our company policy, "Fostering of Creativity."
Hideyuki Nakahara
CEO
Nikko Chemicals Co., Ltd.
Achieving our VISION
Our Activities
Three Areas of Focus
We have started several activities in order to fulfil our "real responsibility."
These activities are split into the following 3 categories:
"Environment," "Quality," and "Human Resource and Labor."
SDGs

Contribution to the realization of a sustainable society
The NIKKOL GROUP will promote efforts to address nine key issues through its business activities in order to contribute to the achievement of the Sustainable Development Goals (SDGs).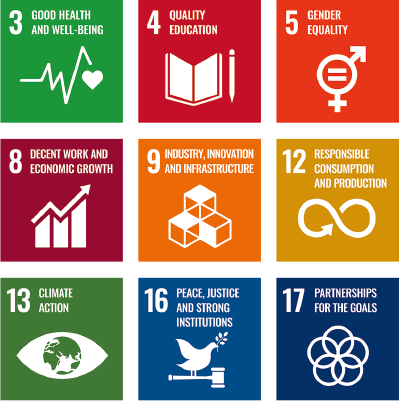 Download the CSR Report
Supply chain grievance process
Nikko Chemicals Co., Ltd. has established a process to properly handle any complaints regarding raw material procurement and manufacturing of our products. With the cooperation of our stakeholders, we will consider all complaints fairly and in a timely manner and take necessary measures in accordance with the prescribed complaint handling process.
In order to effectively implement this grievance process, we will review this process every year and revise it as necessary.
In addition, in this complaint handling process, we will respond sincerely to all complaints, including content related to the environment, human rights and labor.
While the received grievance is being investigated, we may need to temporarily suspend transactions with suppliers with non-compliant practices.
The grievances can be submitted by email to nk_purchase@nikkolgroup.com .
Step 1

Acceptance / Notification

After receiving the complaint, we will notify the complainant that it has been registered internally.
Owner: sales department managers meeting (held once a month).

Step 2

Examination / Deliberation

Complaints will be reviewed and deliberated at the monthly meeting.
If it is determined that the complaint is not relevant, the complainant will be notified accordingly.
Period: approximately 1 month.

Step 3

Dialogue / Planning / Confirmation

The sales department managers meeting will work with other departments to assign the appropriate personnel to carry out the grievance process.
We may also seek the advice of third parties (experts, lawyers, etc.) as needed.
Period: approximately 1 month.

Step 4

Survey

We will collect, verify and evaluate information related to the complaint.
We will make an interim report to the complainant (if necessary).
Period: approximately 1 to 3 months.

Step 5

Presentation of action plan

If improvement is needed, we will present an action plan.
Period: approximately 1 month.

Step 6

Implementation and evaluation

We will implement the action plan and evaluate the results. In addition, we will submit a final report to the complainant.
Period: approximately 6-12 months.