Find our new products for 2023 as below!
Multifunctional lysolecithins to reinforce the skin's barrier function
NIKKOL LECINOL®️ MFL
– Function –
NIKKOL LECINOL®️ MFL contains high levels of lysophosphatidic acid, a lysolecithin with a particularly wide range of efficacy on epidermal cells, suggesting its activity in reinforcing the skin's barrier function. It achieves this by demonstrating an excellent keratinizaiton promotion effect on epidermal cells, encouraging the production of ceramide, a major intercellular lipid constituent, as well as of filaggrin necessary for the building of natural moisturizing factor. It is also expected to be effective in protecting the skin against external stressors such as air pollutants. This multifunctional lysolecithin with skin barrier function reinforcement action is ideally suited for emulsions, creams, beauty serums, and other skincare products.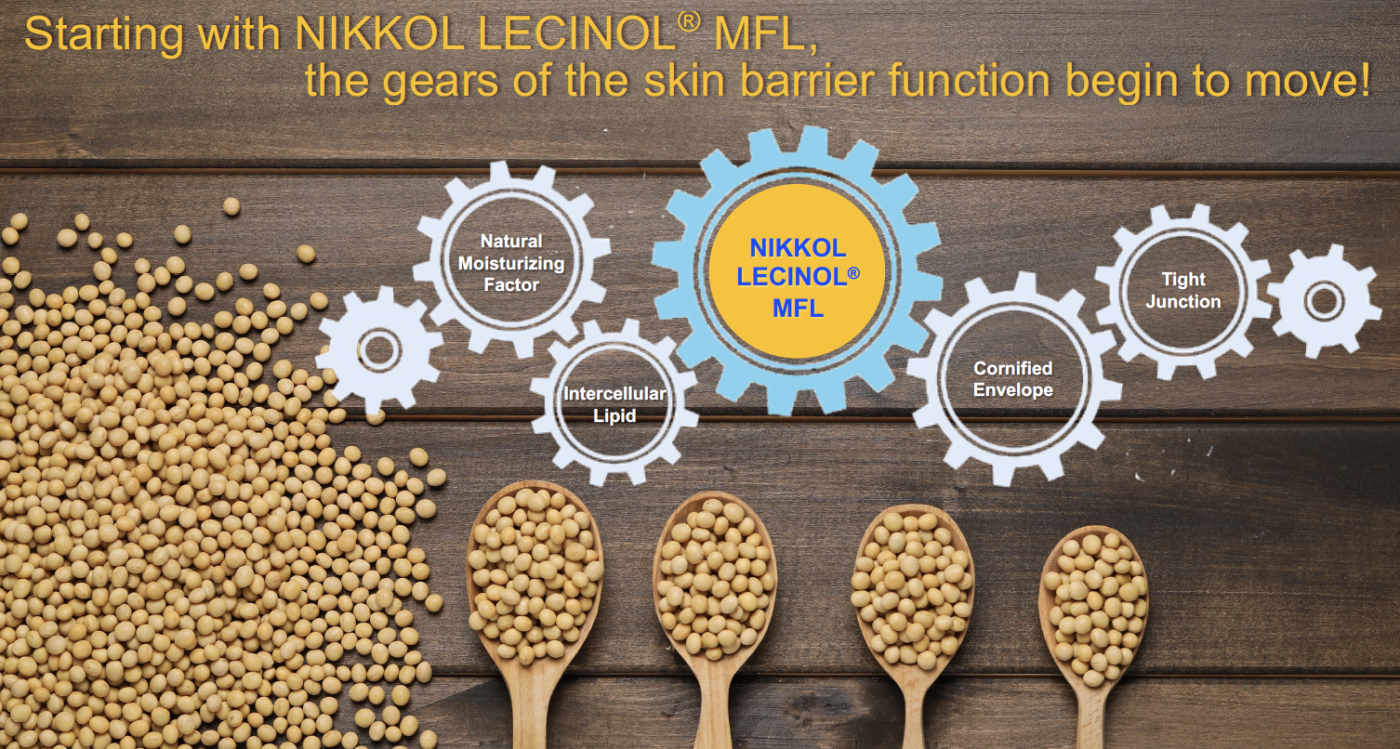 Whole Cell Enzyme Technology
Bio processes which utilize enzymes and other useful biological reactions allow this product to be manufactured under milder conditions compared to chemical reactions. They are therefore promising technologies in our efforts to achieve a circular society. We industrialized our Whole Cell Enzyme Technology in which target enzymes are produced in high volumes extracellularly without performing recombination or any other genetic manipulations on specific bacterial strains. In this Whole Cell Enzyme Technology, the enzymes are not isolated and purified. Instead, the enzyme culture solution itself, or the solid component in said solution, is used as the biocatalyst in the enzymatic reaction. This greatly improves the enzyme production process. NIKKOL LECINOL®️ MFL is a lysolecithin obtained by lecithin modification using Whole Cell Enzyme Technology.
– Application –
・Anti-pollution products
・skincare products
– Consumer Benef –
・Derived from Whole Cell Enzyme Technology
・The skin's barrier function
– Product Details –
・INCI name: Lysolectihin
・Allowable for use in Japanese quasi-drugs: No
・Inventory of Exisitng CosmeitcIn gredientsin China (2021): Listed
・China's cosmetici ngredients ubmission code: Obtained
We handle a wide range of products for cosmetics, pharmaceuticals, and chemical products aside from these product s as well.